Dear In-Laws,
It really bothers me that you show very little interest in your one and only grandchild. According to the husband you, MIL, have waited forever for a little girl- even telling the husband when he was wee that you wished he was a girl. You were happy when you found out Lovie was a girl, and I know you all love her dearly. There's no disputing that. I just don't understand how it's acceptable to see your one and only grandchild twice so far this year- especially when you live 20 minutes away. Why don't you call and ask to see her? I respect that you don't hound us and that you respect that this is
our
little family, but it just saddens me that there's no interest to see Lovie more- especially since she's your only grandchild.
Dearest Brother of mine,
I'm still waiting for a Thank You from your wife for the baby shower gift I sent two years ago. I'm still waiting for a Thank You from her (and/or you) for the birthday gift I sent for your youngest son last June. Oh, and the most unforgettable thing I'm still waiting on is a Happy Birthday anything (wish, card, etc) for Lovie's 1st birthday. I'm repulsed over this last tidbit. I know you have your own life and your own kids, but show a little respect to me and mine, huh? Prick.
Dearest Sister of mine,
I get that you're going through mid-life crisis number whatever. I understand this is your second divorce and the second time you're leaving your kids behind to live your life. Good for you. I thank you for not including me and mine in on this path, but, like with your brother, I'm still waiting for a Happy Birthday wish for Lovie's 1st birthday. Oh but wait. I'm still waiting on a Congratulations from my wedding four years ago so ... yeah.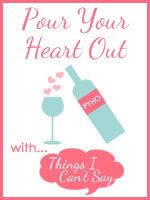 Sometimes it's easier to express things via a letter. The above are things that have been bugging me that I needed to get out once and for all. Thank you,
PYHO
!